Join the team that is revolutionizing student lending by connecting skill-seekers to in-demand careers
Our goal for every Meritize team member is to create a place where they can take their careers to extraordinary heights by doing purposeful work, sharing their voice, and taking ownership.
We bring together a community of passionate people who are open-minded, inclusive, caring and collaborative in their drive to provide skill seekers with the means to pursue their education, and ultimately their in-demand careers.
Our team members come from varied professional, ethnic, and cultural backgrounds. 

Plus many more – this is just some of our wonderful team.
We are driven to revolutionize student lending for skill-seekers through four fundamental principles.



Summary of Perks and Benefits
We care about your total well-being, and have you covered with our generous benefits and perks package.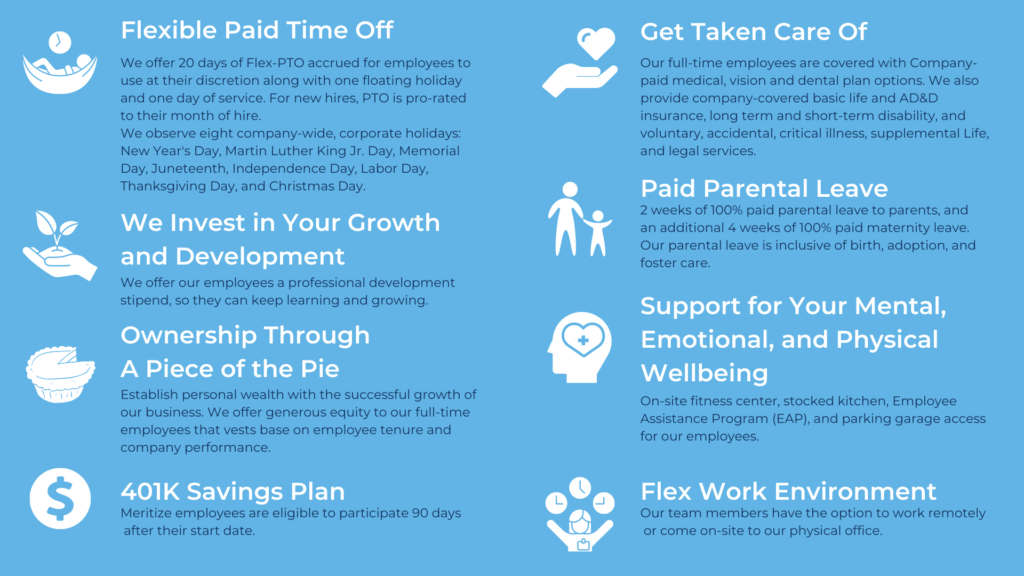 *This is a summary of our benefits and may change at any time.

We are building a team of great people, so we focus on the person – not just professional qualifications and background. We aim to bring consistency to all our hiring conversations by keeping our interviews structured, so that everyone gets to operate on a level playing field.